Michael Yoshitaka Erlewine
mitcho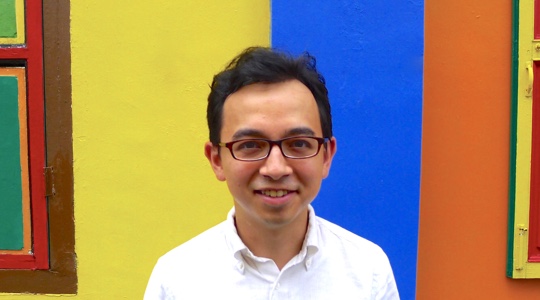 Singapore
Assistant Professor
National University of Singapore
.
Hello!
I am an Assistant Professor (Presidential Young Professor) in Linguistics at the National University of Singapore (Department of English Language & Literature). I received my Ph.D. from MIT Linguistics in 2014. My lab investigates the structure of sentences (syntax) and how these structures map to meaning (semantics). Much of our work is based on fieldwork on understudied languages, especially of Southeast Asia. I serve as Associate Editor at Glossa and on the Editorial Boards of Natural Language & Linguistic Theory and Journal of East Asian Linguistics.
Areas of interest
syntax and semantics of focus, movement, and scope-taking
Alternative Semantics: focus, questions, wh-quantification, QUDs, disjunction
the syntax of movement, case, and agreement
My work has investigated:
See the Projects page for descriptions of projects and downloadable papers.
Next semester (AY2020–21 Sem 1)
EL5101: Grammatical Analysis (aka grad syntax)
EL4203: Semantics
Upcoming
Recent
New paper, June 2020: "Counterexpectation, concession, and free choice in Tibetan", to appear in the Proceedings of NELS 50
June 2020: I began serving as Associate Editor of Glossa. Send us your best work!
Paper accepted, May 2020: Anti-locality and subject extraction, to appear in Glossa!
New draft, May 2020: Ā-probing for the closest DP
Paper published, May 2020: "The typology of nominal licensing in Austronesian voice system languages" with Ted Levin and Coppe van Urk, in the Proceedings of AFLA 26
New draft, May 2020: Universal free choice from concessive conditionals
New paper, April 2020: Mandarin shì clefts and the syntax of discourse congruence
Revised paper, March 2020: "A syntactic universal in a contact language: The story of Singlish already"
Talk, February 2020: "Patterns of relativization in Austronesian and Tibetan" at the University of Edinburgh
Talks, January 2020: I was at the LSA and presented…
Talk, December 2019: "Patterns of relativization in Austronesian and Tibetan" at the Workshop on Comparative Syntax in East and Southeast Asia, Sogang University
Revised paper, December 2019: "Bikol clefts and topics and the Austronesian extraction restriction" with Cheryl Lim
Poster, October 2019: I presented "Counterexpectation, free choice, and concessives in Tibetan" at NELS 50
Talks, October 2019: Kenyon Branan and I presented our joint work on "Anti-pied-piping" at two different venues: the University of Southern California and at the Stress-Free Focus Workshop in Vienna
Talk, September 2019: "Patterns of relativization in Austronesian and Tibetan" at the University of Helsinki
New paper, September 2019: "Long-distance dependencies in continuation grammar" with Cara Su-Yi Leong, presented at PACLIC 33
Paper accepted, September 2019: "Philippine clitic pronouns and the lower phase edge" with Ted Levin, to appear in Linguistic Inquiry!

Talk, August 2019: I presented new work in progress, "Wh-quantification in Alternative Semantics" at GLOW in Asia XI in Seoul. Now with video!
Less recent but still pretty good