Michael Yoshitaka Erlewine
mitcho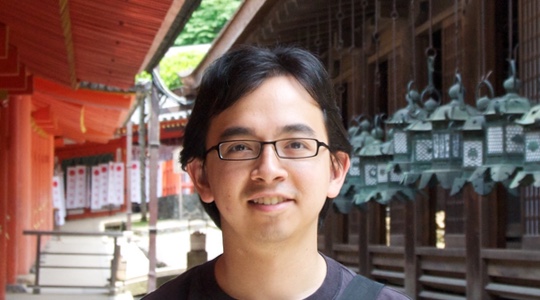 Singapore
Assistant Professor
National University of Singapore
.
Hello!
I am an Assistant Professor in Linguistics at the National University of Singapore (Department of English Language & Literature). I study the structure of sentences (syntax) and how these structures map to meaning (semantics). Much of my work is based on fieldwork on understudied and endangered languages. I received my Ph.D. from MIT Linguistics in 2014. In a previous life, I was active in the Mozilla (Firefox) and WordPress open-source communities.
Areas of interest
syntax and semantics of focus, movement, and scope-taking
Alternative Semantics: focus, wh, disjunction
the syntax of case, agreement, and movement
In previous work I have investigated: Mandarin Chinese; English; Japanese; Mayan: Kaqchikel and Chuj (Guatemala); Austronesian: Squliq Atayal (Taiwan) and Toba Batak (Indonesia); Tibetan; Vietnamese…
See the Projects page for descriptions of projects and downloadable papers.
Upcoming
June 2016: I will be in Tokyo for all of June.
February 2017: The National University of Singapore will be hosting GLOW in Asia XI!
Recent
New paper, May 2016: "Unifying definite and indefinite free relatives: Evidence from Mayan" with Hadas Kotek, to appear in Proceedings of NELS 46.
Talks, May 2016: Two posters at Semantics and Linguistic Theory (SALT) 26:
Talk, April 2016: University of Edinburgh Linguistics Circle, "Focus association through covert movement" (joint work with Hadas Kotek)
Talk, April 2016: "Non-interrogative wh-constructions in Chuj" with Hadas Kotek at WSCLA 21.
New review, March 2016: My invited book review of Minimalist Interfaces: Evidence from Indonesian and Javanese by Yosuke Sato will appear in Oceanic Linguistics 55(1).
New paper, February 2016: "Intervention effects in relative pronoun pied-piping: experimental evidence" with Hadas Kotek to appear in Proceedings of Sinn und Bedeutung 20.
Paper accepted, February 2016: "Even-NPIs in Dharamsala Tibetan" with Hadas Kotek for Linguistic Analysis special issue on South Asian languages. See also our associated talk.
Talk, January 2016: "Unifying definite and indefinite free relatives: Evidence from Mayan" with Hadas Kotek at LSA 2016.
New paper, December 2015: "Unifying Japanese relative clauses: copies in context" with Isaac Gould. Comments welcome!
Paper accepted, November 2015: "Clausal comparison without degree abstraction in Mandarin Chinese" for NLLT. Minor revisions pending.
Talk, September 2015: "The semantics of the Mandarin focus marker shì", at European Association of Chinese Linguistics 9.
New paper, September 2015: "Relative pronoun pied-piping in English non-restrictive relatives" with Hadas Kotek. See also our related CLS paper and Sinn und Bedeutung talk.
New paper, August 2015: "Ergativity and Austronesian-type voice systems" with Ted Levin and Coppe van Urk, to appear in the Oxford Handbook of Ergativity
New paper, June 2015: "Minimality and focus-sensitive adverb placement" to appear in Proceedings of NELS 45, which complements my longer manuscript "In defense of Closeness: focus-sensitive adverb placement in Vietnamese and Mandarin Chinese."
Teaching