Michael Yoshitaka Erlewine
mitcho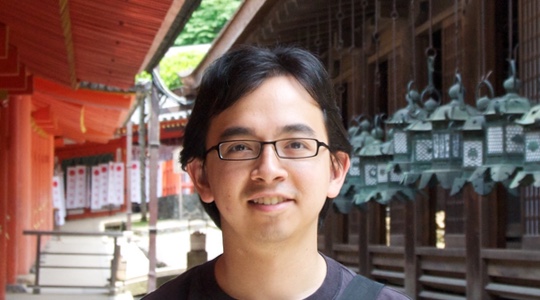 Singapore
Assistant Professor
National University of Singapore
.
Hello!
I am an Assistant Professor in Linguistics at the National University of Singapore (Department of English Language & Literature). I study the structure of sentences (syntax) and how these structures map to meaning (semantics). Much of my work is based on fieldwork on understudied languages, especially of Southeast Asia. I received my Ph.D. from MIT Linguistics in 2014. In a previous life, I was active in the Mozilla (Firefox) and WordPress open-source communities.
Areas of interest
syntax and semantics of focus, movement, and scope-taking
Alternative Semantics: focus, questions, wh-quantification, QUDs, disjunction
the syntax of movement, case, and agreement
My work has investigated:
See the Projects page for descriptions of projects and downloadable papers.
This semester
Upcoming
Late October 2019: NELS 50, presenting the poster "Counterexpectation, free choice, and concessives in Tibetan"
Mid-December 2019: Workshop on Comparative Syntax in East and Southeast Asia, Sogang University, Korea
January 2020: LSA
June 2020: AFLA 27 at NUS, June 4–6, 2020!
Recent
Postdoc opening! I'm hiring a post-doc in syntax and/or semantics. Come join us and do some great work in Singapore!
Talks, October 2019: Kenyon Branan and I presented our joint work on "Anti-pied-piping" at two different venues: the University of Southern California and at the Stress-Free Focus Workshop in Vienna
Talk, September 2019: "Patterns of relativization in Austronesian and Tibetan" at the University of Helsinki
New paper, September 2019: "Long-distance dependencies in continuation grammar" with Cara Su-Yi Leong, presented at PACLIC 33
Paper accepted, September 2019: "Philippine clitic pronouns and the lower phase edge" with Ted Levin, to appear in Linguistic Inquiry!
New paper, September 2019: Anti-locality and subject extraction. Comments welcome!

Talk, August 2019: I presented new work in progress, "Wh-quantification in Alternative Semantics" at GLOW in Asia XI in Seoul. Comments welcome. Now with video!

New paper, July 2019: A variably exhaustive and scalar focus particle and pragmatic focus concord in Burmese with Keely New. Comments welcome!
July 2019: We organized the first (and not last) Singapore Summer Meeting, an informal meeting for fieldworkers. I presented on a focus particle in Tibetan.
June–July 2019: Fieldwork in Dharamsala, India
June 2019: I began serving on the Editorial Board of Glossa. Send us your best work!
June 2019: Kenyon Branan and I held a workshop on Approaches to Wh-Intervention at NUS.
Talk, May 2019: I presented "The typology of nominal licensing in Austronesian voice languages" with Ted Levin and Coppe van Urk at AFLA 26.
Talks, March–May 2019: Anne Nguyen and I presented "Ingredients of excess: A study of Vietnamese quá" at SALT 29 and the International Workshop on Degrees and Grammar
March 2019: I received the NUS Faculty of Arts and Social Sciences Award for Promising Researcher! And they wrote a profile.
Paper published, February 2019: "Wh-indeterminates in Chuj (Mayan)" in the Canadian Journal of Linguistics.
January 2019: I began serving on the Editorial Boards of Natural Language & Linguistic Theory and Journal of East Asian Linguistics. Send us your best work!
January 2019: I was at the LSA and presented:
Less recent but still pretty good