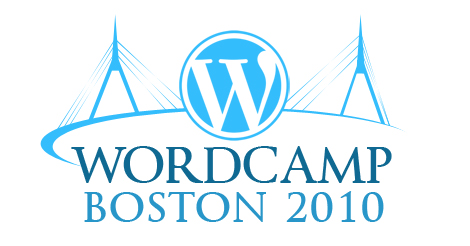 This past weekend I gave a couple talks at the inaugural WordCamp Boston. WordCamps are local, community-organized events for WordPress users and enthusiasts. We had about 400 people at the Microsoft Cambridge campus.
<zp:boston/wordcamp/wordcamp28.jpg><zp:boston/wordcamp/wordcamp31.jpg><zp:boston/wordcamp/wordcamp35.jpg>
(I invite you to also check out more photos below as well as my full WordCamp gallery.)
My first talk was "Getting Into The Loop," which gives a quick taste of The Loop which is a central programming construct in every WordPress application. (SlideShare, SpeakerRate)
</embed>
| | |
| --- | --- |
| My second talk was an [[Ignite_(event) | Ignite]] talk on the importance of beta testing plugins. Ignite talks are five minute lightning talks with 20 slides which auto-advance every 15 seconds. (SlideShare, SpeakerRate) |
The videos for both talks will ultimately go up on wordpress.tv.
The event was a huge success and I'm looking forward to help organize WordCamp Boston 2011 as well!
<zp:boston/wordcamp/wordcamp11.jpg><zp:boston/wordcamp/wordcamp13.jpg><zp:boston/wordcamp/wordcamp16.jpg><zp:boston/wordcamp/wordcamp29.jpg><zp:boston/wordcamp/wordcamp60.jpg><zp:boston/wordcamp/wordcamp68.jpg><zp:boston/wordcamp/wordcamp77.jpg><zp:boston/wordcamp/wordcamp78.jpg><zp:boston/wordcamp/wordcamp82.jpg><zp:boston/wordcamp/wordcamp85.jpg><zp:boston/wordcamp/wordcamp86.jpg>