Wednesday, April 15th, 2009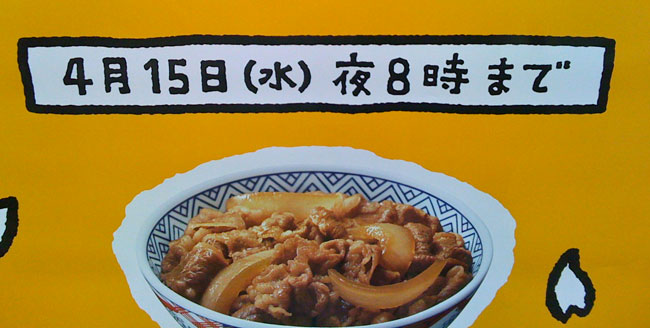 Every day on the way to work I walk by a fine establishment known as [[Yoshinoya]] (吉野家), Japan's largest gyudon (牛丼) chain restaurant. For those of you whose lives have yet to be graced by [[gyudon]], it's a bowl of rice topped with beef and onions stewed in a sweet-savory soy-based sauce. Loving gyudon and being a cheapskate, I naturally noticed the recent 50 yen off gyudon promotion at Yoshinoya. The above photo is a photo of part of that sign.
Part of this sign, though, made me think about our new Ubiquity parser. In particular, it was the attachment ambiguity in the end date of the promotion. The text in the photo above literally is "April 15th (Wed.) 8PM until". (Note that Japanese is a strongly head-final language, and that the "until" is a postposition.) There are two possible readings for this expression, as illustrated by the two [[principle of compositionality|composition]] trees below.