On my continuing quest for good audio content, I've recently subscribed to the University of Chicago Law School Faculty Podcast and so far I've been very pleased. Today I was listening to the latest installation: Dean Saul Levmore's talk on "The Internet's Anonymity Problem." He opened the talk with an anecdote about graffiti at the Med and bathroom graffiti. This immediately reminded me of a Scav Hunt item which I completed in my first year:
From the 2004 Scav Hunt list:
Item 80. Brain Farts: The Collected Works of The University of Chicago Bathroom Graffiti (organized by theme, but attributed to location). [102 points. 15 bonus points for an inset detailing the entirety of the "Grout Work."]
I spent a day or so going around campus with a friend (so I didn't have to be snooping around in ladies' rooms) taking pictures and compiled the booklet. In good Scav Hunt spirit, I opened the booklet with this tongue in cheek forward:
The anonymity and collaborative nature of bathroom graffiti makes it an amazing reflection of the world we live in. People can write what they want to in their own honest words—it is a clear window into the modern human psyche.
Oddly enough, the latter part of this passage on anonymity jives with Dean Levmore's talk. For posterity's sake, I've made a compressed—but still pretty big—PDF version available here:
Make sure not to miss the highlight: the three pages of grout-fiti, collected from three different buildings. I might even venture to say it's the groutest collection of egroutica ever compiled.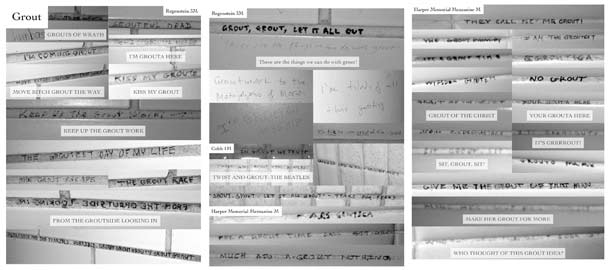 Tags: art, bathroom, book, funny, graffiti, grout, humor, podcast, scavhunt, University of Chicago
If you enjoyed this post, make sure you subscribe to my RSS feed (optionally with tweets from my Twitter)!